Yooper (noun)
Definition: A native or inhabitant of the Upper Peninsula of Michigan.
With the holidays just around the corner, you might be wondering what to get that special Yooper in your life? No worries. That's where we come in! We went on a mission to uncover the best gifts that any Yooper would love, and we think we did pretty good!
Get ready to check off that nice list! Here are a few of our favorite gifts guaranteed to make the Yooper in your life say "Holy wah!".
The official snow scoop of the U.P. is always at the top of every Yooper girl and boy's Christmas list. We're not talking about just any old snow scoop. We're talking about the only snow scoop you will ever need: the Yooper Scooper. Yes, the Yooper Scooper. It has legendary status in these parts—and it's a must-have for every Yooper over the age of two.
This wouldn't be a Yooper gift guide without pasties! No, no…this pasty is not anything rated X! The pasty (pronounced pass-tee) is a cultural point of pride in the Keweenaw! Check out our Keweenaw Pasty Trail Challenge here.
Pasty Central pasties can be ordered for pick up or they offer shipping (limited availability). Don't forget to add in a pasty dish towel!
If you've ever lived in the U.P. chances are good that you've enjoyed picking and eating thimbleberries. Thimbleberries are similar in appearance to a raspberry but softer. They're tart with a touch of sweetness; and they make the most amazing jam.
(Note: Carmelita's Southwestern Grille makes a to-die-for thimbleberry margarita!)
If you're drinking coffee without a couple pieces of twice-backed Finnish coffee bread, are you really a Yooper? Young and old love this hard cinnamon toast that Yoopers have enjoyed since being introduced by their Finnish ancestors over a century ago. Many Yoopers swear their parents gave them Trenary Toast as infants to help with teething.
Trenary Toast comes in a brown paper bag—like it did 90 years ago when the bakery was started by Jorma Syrannen in the town of Trenary, Michigan. You can even grab a create-your-own Trenary Toast puzzle for that favorite Yooper kid in your life!
(Note: Rumor has it, Santa gives more presents when he gets a plate of Trenary Toast and a cup of black coffee instead of the usual cookies and milk.)
Yoopers hang sauna sausage ("sauna makkara") in…you guessed it, the sauna. Between the aroma and the taste, after you've had authentic sauna sausage cooked in the sauna, you'll never want to eat sausage cooked anywhere else.
What's that—-you don't have a mug displaying your love of the iconic Portage Lift Bridge?? Have no fear—we've got you covered. Now you can enjoy a cup o' Joe (with a splash of your favorite adult beverage depending on the day) while being reminded of the Gateway to the Keweenaw.
Add in a bag of this limited edition brew from Keweenaw Coffee Works and you've got something that goes better together than a pasty and ketchup (wink, wink)!
You might be from the Keweenaw if you know what the "Yooper Loop" is. This shirt is the definition of a conversation-starter. If you're looking for a unique gift idea, you can't go wrong with the Yooper Loop! (Well, technically, you can go wrong on the "Yooper Loop"—going down when you should be going up or up when you need to go down or left when you're going right…)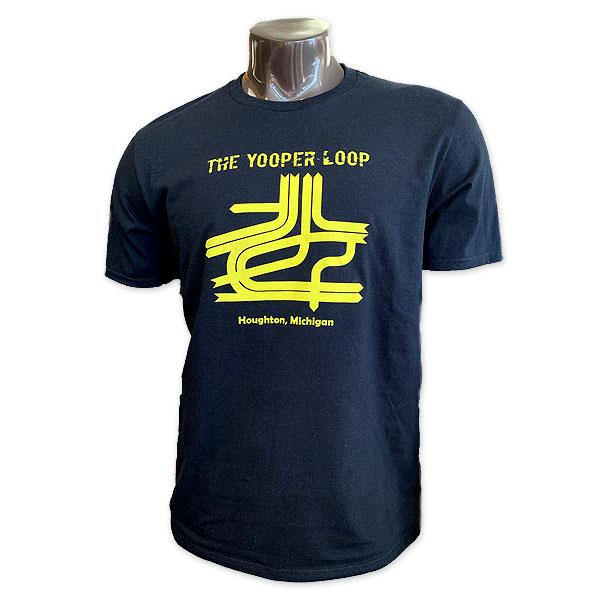 During the 1600s, French explorers made their way here and were keeping warm with hats they called "touques". The word "touques" evolved to "chooks" and chooks became synonymous with Yoopers. Yoopers love a good chook.
On average the Keweenaw receives over 270 inches of snow annually. But even with that epic snowfall you'll still find people who enjoy wearing a short sleeve shirt as their winter jacket!
Did you know the greatest concentration of Finnish Americans is in the U.P.? Houghton County is sometimes called the "cultural capital" for Finnish Americans.
The sauna is an important part of Finnish culture. Many people in the U.P. have saunas but even those who don't can still enjoy a piece of the sauna experience by using authentic birch Finnish sauna soap. It's cleansing and rejuvenating to the Yooper soul.
(Note: Do you say sow-na or saw-na?)
What's better than playing a good game of euchre? Playing it with a deck of Keweenaw Explorer Playing Cards! These cards feature some of the most iconic landmarks from around the Keweenaw.
Game on! These 52 cards are not just beautiful to look at, they're even better to play with!
This board game was created for Yoopers by Yoopers. If you know anyone who loves local history and games, this is for them. Beautiful art-work and educational—it definitely gets you thinking about how different life was for the miners and copper barons during the "copper boom".
Cribbage is traditionally a game for two people. From living rooms to coffee houses—it remains a popular game for Yoopers. For many, it was the first game they learned how to play.
This cribbage board is shaped like Mother Superior. It's a functional piece of art-work that would look stunning in any home or hunting camp.
Did you know Guts Frisbee was invented by two brothers in Eagle Harbor, Michigan? Guts is like an extreme form of dodgeball. It's one of the craziest sports, if not the craziest sports out there.
Frisbee…crazy? Just check out this 1979 documentary on Guts. Get the sports-loving Yooper on your list an official Guts Frisbee!
Got rocks? How about glowing rocks? Every Yooper needs at least one Lake Superior sodalite. These rocks were discovered back in 2017 when a Yooper was out walking along the shores of Lake Superior late at night with a black light…(feels like this is where a cheesy joke gets inserted)
Well, the blacklight revealed amber-colored rocks scattered around the beach and thus the Lake Superior Sodalite (also commonly referred to by the brand name "Yooperlites") was born. Kids and adults alike love these magical glowing rocks.
You can buy them or you could also get your favorite Yooper a blacklight so they can go out and find their own!
If you didn't learn your ABCs with Scott Reddinger's Y is for Yooper ABC Book do you really know your ABCs? This is an absolute classic that babies and their parents are sure to enjoy!
For that solitude and adventure-craving Yooper in your life—this book is a must-have. Author Kath Usitalo put together a diverse collection of things to do and places to see in "God's Country".
When people ask for U.P. book recommendations, Michigan's Upper Peninsula Almanac by Karl Bohnak and Ron Jolly is always at the top of our list. This book is full of everything you wanted to know and everything you never knew you wanted to know about the U.P. (e.g. "How many tornadoes have there been in Keweenaw County?")
The unofficial confectioner of the Upper Peninsula, Sayklly's has been making world-class chocolate since 1906. Found in nearly every grocery store, gift shop, and gas station in the 906 area code, the classic "Yooper Bar" is a favorite among locals and visitors.
Synthia Marsh lives on the shores of Lake Superior right here on the Keweenaw Peninsula. She creates beautiful Lake Superior-inspired jewelry, and she also feeds hundreds of deer (DNR-approved feeding site) on her property to help them survive the long winter months.
There's no better way to show off your Yooper pride than with these beautiful handcrafted Lake Superior earrings.
Stocking Stuffers
Our Yooper Gift Guide wouldn't be complete without stocking stuffers!
Portage Lake Lift Bridge Wood Ornament